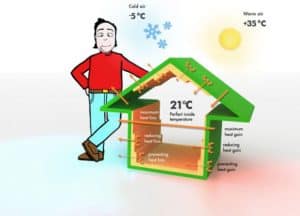 Did you think you can just do away with roof insulation? To maintain a strong and long lasting home that would survive many more years to come; you would also need to insulate the walls of your house. Worried about the wall insulation price? At a reasonable price, you can avail insulation services for the walls of your home that will let you stay comfortable all along the year. Also you would be saving some big bucks on heating and cooling costs, just by the way. But before you start you need to know about the types of insulation for your walls. So, read out here to get inspired: There are three types of wall insulation you can choose to insulate your home. Insulation batts Ideally made up of glass wool, polyester or maybe cellulose fiber, the batts are basically a form of bulk insulation for home. There are endless air pockets present which are trapped inside. These air pockets are responsible for providing excessive thermal resistance.
Why choose batt insulation?
• It is designed to fit perfectly and tightly into the wall cavities and this makes it quite efficient by nature. • It is an environment-friendly product as it is made up of recycled materials. • The air pockets that are present provide good sound insulation. • It is highly a cost effective solution that you can look up to.